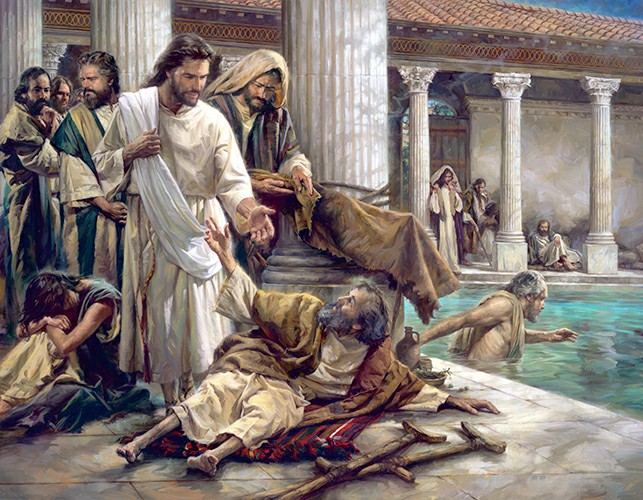 In the midst of Jerusalem, the city of Peace, there is located a pool of water called Bethesda which had become known as a place of healing.  Prior to this status, Bethesda was used to wash the sacrificial lambs before being taken into the Temple.  Now as travelers passed by they would witness turmoil at the pool as groaning, dying and greedy people watched for the stirring of the water.
According to verse four in John chapter 5, an angel would go down at a certain time and 'trouble' the water. Whoever then was lucky enough to step into the pool first was made whole.  The question then is whose angel was it?   Many Bible scholars believe that it was an angel of the Lord.  For certain I am not a Bible scholar and I do believe that God healed Naaman in the Jordan River when Elisha instructed him to dip seven times,  but let's look further.
We know that God's angels will never tell us to do anything that is contrary to the Bible.  God's angels also do not grant ones' selfish wishes to the detriment of others.  They come into our lives to do God's will.  God's purpose is not to make life easy, but to make us more Christlike.
The angel in verse four encourages gross selfishness as impotent folk attempt to stampede their way into the water.  Only the strongest, greediest and most vile made it into the pool.  It became somewhat of a competition as each viewed the other as the enemy.  No first come first served here.  And furthermore, spiritual issues were not even addressed.
Let's go back to the location of Bethesda.  The pool was located within walking distance of the Temple. Here we have a picture of a multitude of impotent people lounging around on the five porches seeking healing.  These people wanted a quick fix like King Asa and Ahaziah in the Old Testament.  Instead of going to the Temple and seeking healing from God they chose to try their luck with the paranormal activity of a Satanic source.
Among those waiting to be healed was a 'certain' man who had an infirmity for 38 years.  It was to be his lucky day.  Jesus had just arrived in Jerusalem to attend the Feast of the Jews.  This man was noticed by the Lord who asked him, "Wilt thou be made whole?"  The Great Physician already knew what the man's ailment was and even how long he had suffered.  The Lord got right down to business.
The story does not end here.  In verse 14 of John chapter 5, we read that Jesus found the man in the Temple and admonished him to 'sin no more!  Sin had been addressed